The Wolf House Restaurant - Sonoma Valley Restaurants
Wolf House Restaurant
The Wolf House Restaurant evokes the era of author Jack London with period décor & dining room furniture. The restaurant's rustic interior has a brick fireplace and expansive view of the Sonoma creek. The Wolf House dining rooms shows off blonde maple floors, honey gold walls, cinnamon maple tables, and chairs finished in rich wheat and burgundy fabric. The room is warm, elegant, & comfortable. But the highlight is the breathtaking natural beauty of this Sonoma Valley

historic landmark. The large picture windows overlook Sonoma Creek. During warm weather you can enjoy outdoor dining on two trellis covered decks. Even the fanciest dining room can not compete with the bucolic beauty of this wooded oasis.
The menu can range from American casual to wedding party grand. Indeed Wolf House does considerable trade with event caterting. Summer weddings are frequent here. So call first to assure that the dining room is not booked for a private event. Holiday meal specials fill up quickly in this Sonoma Valley

favorite, Dinner reservations are highly recommended.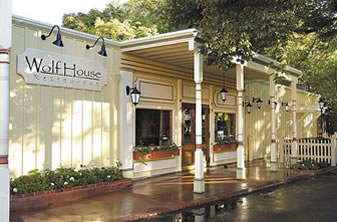 Phone number:
(707) 996 4401
The Wolf House Restaurant - Sonoma Valley Restaurants - Map
Events

Annual events
Food events
Wine events
Music events
Art events

Food

Restaurants
Farms
Farmers markets
Specialty Foods
Cooking Classes

Wine

Wineries
Wine Tours
Appellations

Music
Art
Recreation

Golf courses
Horseback Riding
Canoe & Kayaking Trips
Fishing
Parks
Beaches
Gardens
Camping

Stay
What's Nearby
167

Winery

Glen Ellen, California

56

Winery

Glen Ellen, California

822

Hotel

Glen Ellen, California