Sonoma: Local and Seasonal? A Spring Rant
Written by Michele Anna Jordan on 2009-03-27 23:40:30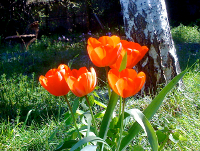 Ahhh, spring. Yesterday the first of my tulips--red, which is all I grow--opened. Poe has brought in the first gopher of the season and, lucky for me, killed it before he grew bored. A gopher loose in the house is never a happy thing, but such is life in west
Sonoma County
in early spring. I suppose it is a small price to pay for this glorious season, when even the apple trees sport their white spring blossoms, making the landscape seem as if it has been draped in lace.
It is hard to be grumpy at this time of year but I confess that I have come close several times recently, at special dinners featuring "the best of the wine country, the best of the season, the best of
Sonoma County
."
As I listen to chefs boast about all their commitment to all things local, it quickly becomes so much blah-blah-blah. Am I really supposed to believe that those fresh bell peppers thrive in some remote microclimate of
Sonoma County
? And must we use tomatoes weeks if not months before plants can even be set out locally?  
I was served roasted fresh grapes a few weeks ago and as I sat listening to the chef I kept looking at them. Fresh grapes in
Sonoma County
? Now? Really? That's news to several hundred grape growers and wine makers.
And what about that "local" wild salmon? Even if there were going to be a 2009 season, which is highly unlikely, it wouldn't be open yet. 
So, c'mon, I say. If a chef is going to announce or a restaurant is going to publicize that they serve only season and local ingredients, let's be clear: It doesn't mean you simply bought them from a local market or distributor. We all know this, right? 
Local and seasonal means just that, that everything is in season here, now. 
Let's be honest about this before the words--so precious and true when you really think about them--become empty buzzwords, meaningless clichés. 
For now, I'm looking forward to the first fresh favas, tender green garlic and the exquisite asparagus that is just now poking through the ground outside my office window. There is more than enough for us to enjoy now, delicious foods that will soon be gone, until the summer harvest begins. Use whatever ingredients you want, from wherever you want. Just don't don't to pass them off as something they aren't.
Ahhh, thank you! That felt good.